Coach Holidays to Florence
Florence has always been considered an important centre of art and architecture. As one of the most crucial trading points in ancient Europe it has emerged as one of the wealthiest cities. The impact of Florence is vast. It plays a leading role in music, education, cusine as well as fashion, science and philosophy. The elegant plazas that can be found all over the city make this city one of the most desired among tourists.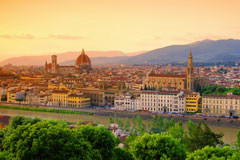 Florence Coach Tour Highlights
Galleria dell' Accademia

This art academy is one the most important in Europe, housing for example Michelangelo's famous "David"

The Duomo

The basilica is amongst the largest of Italy and has the world's largest brick domes ever constructed>

Historic Centre of Florence

The beautiful architecture of Florence's Old Town made the UNESCO name it a World Heritage Sit in 1982
Boboli Gardens
The famous park is home to a multitude of historic sculptures and statues from the 16th through the 18th century
pPiazza della Repubblica
The Piazza is famous meeting place for renowned artists and writers.
Coach trips to Florence
Whenever you choose to book a coach trip to Florence you are bound to have a good time in this culturally fascinating city. If you cannot find a suitable trip on our website contact us and our experienced advisers will help find your ideal coach holiday to Florence.
If coach holidays to the Florence are not for you we have a wide range of coach holidays and trips that visit other cities and regions in Italy: