Holidays to Florence
We have some of the best priced holidays to Florence and other popular destinations in Tuscany. Escorted holidays to Italy available from the wide variety of pick up points across the UK. We also offer discounts on some package tours to Italy, so have a look at our offers, give us a call and we will happily book it for you.
More about Florence
Florence has always been considered an important center of art and architecture. As one of the most crucial trading points in ancient Europe it has emerged as one of the wealthiest cities. The impact of Florence is vast. It plays a leading role in music, education, cuisine as well as fashion, science and philosophy. The elegant plazas that can be found all over the city make this city one of the most desired among tourists.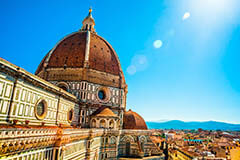 Things to do in Florence
The Duomo & Cathedral of Santa Maria del Fiore
Piazza del Duomo is a large square in the center of Florence with the huge cathedral and bell tower. Basilica of Santa Maria del Fiore is amongst the largest of Italy and has the world's largest brick domes ever constructed.
Piazza Michelangelo
If you looking for the best panoramic views over the Florence than walk to the Piazzale Michelangelo. Apart from unforgettable sunset you also can find there some copies of Michelangelo's works.
Uffizi Galleries
The Uffizi Gallery has a truly impressive Renaissance art collection and a must see when in Florence.
Ponte Vecchio
The world famous Ponte Vecchio is the most photographed bridge in Florence with fabulous views over the river.
Looking for specific tours to Europe?
If you cannot find a suitable tour to Italy contact us and let our experienced travel agents help you find your perfect holiday to any destinations abroad.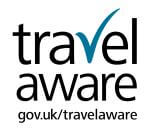 Remember, we are the UK's leading coach holiday website and have excellent value holidays to the UK, Europe and more with the widest choice and best prices.
We are working with the Foreign and Commonwealth Office (FCO) to help British nationals stay safe abroad. The FCO website (www.fco.gov.uk/travel) offers straightforward travel advice, top tips and up to date country information to help you plan your holiday. Stay safe overseas, know before you go.
Back to search for trips to Florence