Coach Holidays and Escorted Tours to Finland
Discover magical Lapland area and Northern Lights with our coach tours to Finland and Scandinavia. Everyone who likes exploration and wild nature will fall in love with Finland and its beautiful capital Helsinki, "the white city of the north". Discover Finnish culture and history, and enjoy authentic Arctic experience while traveling into the far north area of Lapland.
We offer great touring holidays through the countries of Northern Europe, including Denmark, Norway, Sweden and Finland. So if you decided to discover the Land of Midnight Sun, just use our search to find available coach and air tours to Finland. We also offer discounts on most touring holidays in Europe, so have a look at our offers, give us a call and we will happily book it for you.
More about Trips to Finland
Helsinki
Enjoy endless summer days and snowy winter nights in the capital of Finland that lies on the Baltic coast surrounded by hundreds islands. And where modern architecture, bridges and harbors nicely blends into the stunning surrounding nature. Many buildings in Helsinki are made from white granite, so it is often called "the white city of the north.
Lapland
Learn the origins of Santa Claus, as you visit Lapland and the resort of Rovaniemi. Located on the Arctic Circle Rovaniemi is official home town of Santa.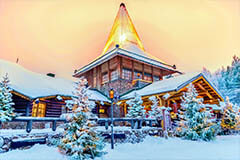 Northern Lights
The Aurora Borealis can be viewed from the northern part of Finland. And it is usually visible from the late summer to the middle of the spring. All you need is just the right spot and the right time based on local forecast.
If you are interested in heritage and culture of Northern Europe region then you will definitely enjoy escorted holidays to Scandinavia, travelling through Denmark, Norway, Sweden and Finland, and discovering four Scandinavian capitals, including Copenhagen, Oslo, Stockholm and Helsinki.
Alternatively if you are looking for more tours to Finland and other parts of Europe. You could also look for our touring holidays from Poland to Finland, travelling through the Baltic states of Lithuania, Latvia and Estonia. Or venture even further to the famous cities of Russia.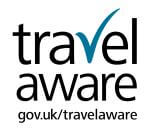 Remember, we are the UK's leading coach holiday website and have excellent value coach holidays to the UK, Europe and more with the widest choice and best prices.
We are working with the Foreign and Commonwealth Office (FCO) to help British nationals stay safe abroad. The FCO website (www.fco.gov.uk/travel) offers straightforward travel advice, top tips and up to date country information to help you plan your holiday. Stay safe overseas, know before you go.
Back to search for trips to Finland