Coach Holidays to Dubrovnik
The Old City of Dubrovnik was made a UNESCO World Heritage Site in 1979. The magnificent cityscape made up of several small southern-style houses is located on southern most part of Dalmatia at the Adriatic Sea. The City is the favourite destination of Croatia. The city has always been based on maritime trade, rivalling with Venice for hegemony. Owing to its international connections the city strived in development and gained wealth and strength along the way.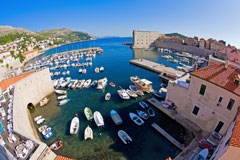 Dubrovnik Coach Tour Highlights
Onofrio's Fountain

This fountain was built in 1438 by Italian-born architect Onofrio della Cava. The detail-steeped fountain was a masterpiece of its time, once supplying the main square with water.

Franciscan Monastery

The 14th century monastery and church is home to one of the most beautiful cloisters in the region.  Moreover, the Monastery houses a museum and a pharmacy which has been in use since 1317.
City Walls
These imposing walls enclosing the Old City of Dubrovnic are the city's most famous attraction. The protective barrier ranks among the finest of the world and is over 25 metres tall and about six metres thick.
Sponza Palace
Built in the early 16th century the Palace is one of the rare to preserve its original form and appearance. It was once the crucial point of merchants in south-eastern Europe.
Stradun
The longest and widest street of Dubrovnic stems back to the 13th century. The marble-paved boulevard has always been the city's commercial, cultural and spiritual centre.
Coach holidays to Croatia
Whenever you choose a coach holiday / coach tour to Dubrovnik you are sure to find plenty to see and do in and around the city and surrounding area. If you cannot find a suitable coach trip to Dubrovnik contact us and let our experienced operators help find your perfect break. If coach holidays to Dubrovnik are not suitable we have a wide range of coach tours and trips that take in other destinations in Croatia that may be of interest.