Coach Holidays to Dresden
Near the Czech border lies the Capital of Saxony, Dresden. After being completely destroyed during the War, it now shines in a new splendour, emerging as one of Germany's cultural, political and economical centres. The beautiful Elb valley offers a marvellous landscape.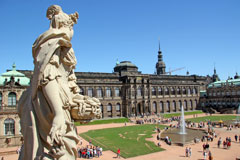 Dresden Coach Tour Highlights
Frauenkirche

The Lutheran Church has been reconstructed as a landmark of reconciliation between former enemies after World War II.

Green Vault

As a part of the Dresden Castle is a museum containing the largest collection of European treasures.

The Zwinger

The Zwinger is landmark baroque architecture palace, formerly known as the Dresden fortress.
Semper Opera House
The famous Concert hall and State Opera was built in 1841 by Gottfried Semper.
VW's Glass Factory
VW offers transparency in building their luxurious Phaeton traceable from scratch up until the finished vehicle.
Transport Museum
Dresden's Transport Museum displays a huge exhibition of the history of transport means
Coach trips to Dresden
Whenever you choose a coach trip to Dresden you are sure to enjoy the culture and sights in and around the city to provide an enjoyable holiday experience. If you cannot find a suitable coach holiday to Dresden contact us and our experienced operators will help find your perfect break. If coach holidays to Dresden are not for you we have a wide range of coach holidays and trips that take in other cities and regions of Germany that may be of interest.