Coach Holidays to Cornwall
Cornwall is the most south westerly county in England and is popular for its stunning coastline and scenery, holiday resorts, golden beaches, quaint coastal towns and the sparkling blue sea that enclose the majority of the county. Bordering Devon, Cornwall's mild climate and spectacular landscape make it a popular destination for holidaymakers from the UK and around the world with up to 5 million people visiting every year.
Search coach holidays to Cornwall and find discounted coach tours and trips to Cornwall's most popular resorts. Cornwall coach holidays are available throughout the year from local departure points across the UK with leading coach operators and we have excellent value breaks on offer. We specialise in providing the cheapest coach tours and multi centre coach trips to Cornwall's best destinations whilst maintaining high levels of comfort. With breaks available at Easter, throughout the spring and over the summer our coach trips to Cornwall provide a cost effective opportunity to enjoy a holiday in this fabulous area of England. Coach holidays are available to Cornwall holiday resorts such as Newquay and Falmouth.
We have departure points across the UK so if there is not a suitable offer, use the search form to find your perfect coach holiday to Cornwall. With the largest selection and cheapest coach trips from across the UK we are sure to have a 2016 Cornwall coach holiday for you.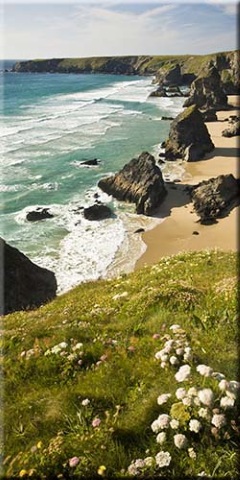 History
Cornwall was part of a maritime trading route during the iron age. Over the years agriculture, mining and fishing have played a part in the history and development of Cornwall. The tourist industry has grown from the 19th century attracting visitors for the culture, climate and holiday attractions.
Cornwall Coach Tour Highlights and places of interest
Coach holidays to Cornwall provides the opportunity to visit a wide range of attractions and places of interest.
Eden Project - St Austwell
Eden is a stunning global garden housed in tropical biomes that nestle in a crater the size of 30 football pitches. Eden is an immensely popular tourist attraction and a fabulous family day out. Plants from across the globe are housed in this immense attraction that is a must see on a coach holiday to Cornwall.
Blue Reef Aquarium
Situated on Towan Beach in the centre of Newquay, the Aquarium is a wonderful day out for the entire family. Watch the local marine life from the Cornish coast and hundreds of tropical species in the gigantic ocean display complete with underwater tunnel.
Newquay Zoo - Trenance Park
Set in lush sub-tropical lakeside gardens, experience over 130 different fascinating species. From the open rainforest exhibit to the beautiful oriental garden there is something for everyone.
Fistral Beach
By far Newquay's most iconic beach, Fistral Beach is one of the most consistent and best surfing beaches within UK and Europe. Home to the Ripcurl Boardmasters each summer, (Europe's largest surf, skate and music festival) its waters perfect for a variety of water-based sports.
Dairyland - DairyLand Farm World, Nr Newquay
A fantastic all-weather attraction that has a variety of things to do. Why not try the Raging bulls ride, mini tractors, Adventure playgrounds, Farm animals & bottle-feeding, or explore the farm, with something for all ages this is a great day out for the family.
Trerice, National Trust - Kestle Mill, Nr Newquay
This stunning Elizabethan manor house with interiors and delightful garden, is a 'gem of the Cornish countryside'. The manor, famed for its 'barrel-roofed' Great Chamber, Charming gardens and old Cornish apple orchard, is a wonderful day out.
Pendennis Castle
Winner of the silver award for small visitor attraction at the Cornwall Tourism Awards 2009 Pendennis Castle is well worth a visit. Following major developments at the castle, the full history of this magnificent fortress has been revealed. Now known to be one of Henry VIII's coastal strongholds to its last military role as a secret Second World War base Pendennis castle offers a unique view into the history of itself and Falmouth.
Maenporth Beach
A wide sandy beach two miles south west of Falmouth with stunning views of Falmouth, Pendennis Castle and St Anthony Lighthouse.
National Maritime Museum
Learn about this fascinating place by visiting the national maritime museum, overlooking Falmouth harbour and the bustling shipping area the museum is ideally situated and is a journey of excitement and learning with three floors and twelve impressive galleries, the national maritime museum is one of Falmouth's best loved attractions.
Cornwall Coach Holiday Destinations
Popular UK & Ireland destinations
Whenever you choose a coach holiday or coach tour to Cornwall you are sure to find plenty to see and do. If you cannot find a suitable coach tour to Cornwall contact us us and let our experienced coach holiday operators help you find your perfect coach holiday to South West England.
Remember, we are the UK's leading coach holiday website and have excellent value coach holidays to the UK and Ireland with the widest choice and best prices.