Coach Holidays to Cologne
The Rhine Metropolis with its beautiful old city offers scenic views across the river. Cologne is home to a number of media companies and an important landmark for trade and commerce. Its appearance is characterized by the architectural masterpieces of German history. From modern to classical art Cologne provides for every taste. Furthermore it is famous for its spectacular fifth season: Cologne Carnival, a huge street festival with costumes, music and delicacies, a not-to-miss cultural event in a must-see city.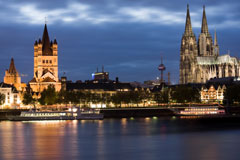 Cologne Coach Tour Highlights
Cologne Cathedral (Dom)

This Roman Catholic Cathedral is an exceptional work of human genius, as described by the UNESCO, and one of Germany's most beautiful landmarks.

Chocolate Museum

The Imhoff chocolate museum displays the history and cultural importance of chocolate throughout the centuries.

German Sports and Olympic Museum

The museum exhibits the history, development and successes of German sportsmen and women.
St. Ursula
The church was built upon a Roman cemetery where several thousand virgins associated with the legend of ST. Ursula are said to be buried.
Coach trips to Cologne
Whenever you choose to take a coach trip to Cologne you are sure to enjoy the sights and attractions in and around the city to provide an enjoyable holiday experience. If you cannot find a suitable coach holiday to Cologne contact us and our experienced operators will help find your perfect break. If coach holidays to Cologne are not for you we have a wide range of coach holidays and trips that take in other cities and regions of Germany that may be of interest.