Coach Holidays to the Channel Islands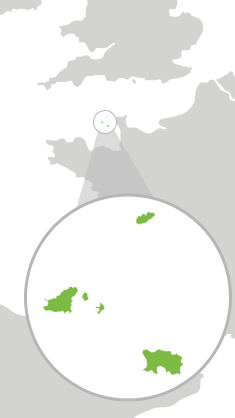 Find coach holidays to the Channel Islands and get the best deals on coach tours and trips to the Channel Islands top destinations. Jersey, Guernsey and Alderney are the largest of the Channel Islands with a great variety of different attractions, both man-made and natural. Part of the attraction, of course, is the warmest climate in Britain. Around 2,000 hours of sunshine every year and plenty of lovely beaches on which to enjoy them. Friendly communities, a rugged coastline and gentle, unspoiled scenery make a Channel Islands holiday ideal for anyone who wants to get out there and explore on foot or by bike.
Try some island hopping and you'll also discover some fascinating history.
One of the most dramatic sights on Jersey, for example, is 13th-century Mount Orgeuil castle, built on the remains of an Iron Age fort a few miles east of the capital St Helier.
The islands proximity to France means there's a Gallic touch. Eavesdrop on conversations in an intriguing Norman-French patois. Buy a baguette and cycle, French-style, with it in your bicycle basket through streets whose names betray a strong Gallic influence.
On Guernsey walk through the maze of cobbled streets and steep stairways in St. Peter Port. Or enjoy a performance with the sea and the sky as the backdrop at Castle Cornet's open-air theatre.
And wherever you pause to eat, enjoy a crunchy, sea-fresh lobster or pile your plate high from a selection of succulent seafood. The Channel Islands have a well-deserved reputation for fine gourmet dining.
Jersey Coach Holidays

Search coach tours to Jersey and find the best deals on holidays and coach trips to Jersey. Unearth the unique history of this independent isle, meander along golden sweeping bays or take a deep breath of fresh sea air. Jersey's welcome is sure to reawaken your senses. Captivating coastal landscapes, wooded valleys, rolling dunes and towering cliffs will satisfy the rambler's passion; nature lovers can feast their senses upon some of Europe's richest natural habitats; gourmets can indulge in exquisite local fare while the adventurous can enjoy adrenaline-fuelled activities on the sea. Whatever atmosphere you are seeking from your weekend break, relaxing retreat or family holiday, Jersey has it all. Whether you are rediscovering Jersey or experiencing it for the very first time, you will never tire of the island that is rich in culture, full in flavour and steeped in history. Take time to explore the whole island to ensure you capture the real essence of Jersey life. Shaped by the sea and warmed by the islanders, this idyllic getaway will exceed all your expectations, time after time! And it is all on your doorstep! So, escape to a jewel of an isle and get more than you bargained for, as the neighbouring isles of Guernsey, Herm, Sark, Alderney and mainland France are also just a stone's throw away. With air and sea links departing all year round, reaching Jersey and the other beautiful Channel Islands, has never been easier.
Guernsey Coach Holidays

Search coach trips to Guernsey and find special offers on holidays and coach tours to Guernsey. A heady mix of stunning scenery and the best of contemporary living, Guernsey is the perfect short break destination. Inspiring walks along the cliff paths, rambles through the rural interior or lazy days on the island's beautiful beaches, Guernsey has it all. St Peter Port, the island's capital, is a bustling harbour town, a tapestry of architectural styles that tell the story of the region's changing fortunes. Here bistros, restaurants and boutiques jostle for your attention, while in the harbour ferries are readied to take you to the sister islands. Ask anyone who's been here. Guernsey is a special place, a thriving community that welcomes its visitors with open arms and leaves a lasting impression on all who set foot on her soil.

Herm

A tranquil beach paradise that's easily reached from Guernsey by ferry, Herm is a favourite with visitors and locals alike. As soon as you step off the boat onto the jumble of granite and wood that forms the harbour wall, the stresses of the modern world evaporate. Stay overnight to really appreciate the peaceful personality of this magical island.

Sark

Step back in time in beautiful Sark. Traffic-free and overflowing with natural beauty, the island is easily reached by ferry from Guernsey. Stunning coastal views and a picturesque rural interior are best experienced either on foot or by bicycle (available for rent on the island). There are also a number of good restaurants and hotels for those wishing to stay longer than a day.

Alderney

Despite being the closest to France, Alderney feels more remote than any of the other Channel Islands. It's a paradise for nature lovers, a combination of landscapes and wildlife that are easily accessible from Guernsey by air or sea. St Anne's, the capital, has good restaurants, lively pubs and plenty of accommodation of varying types for visitors.
Popular UK & Ireland destinations
Whenever you choose a coach holiday or coach tour to Channel Islands you are sure to find plenty to see and do. If you cannot find a suitable coach holiday to Channel Islands contact us us and let our experienced coach holiday operators help you find your perfect coach holiday to any UK destination.
Remember, we are the UK's leading coach holiday website and have excellent value coach holidays to the UK and Ireland with the widest choice and best prices.