Coach Holidays to Budapest
Hungary is a small land locked country in the centre of Europe offering a good mix of holiday destinations. If you are looking for the Great Outdoors then a coach trip to Lake Balaton would be an ideal choice. The nice resorts and shallow waters of the lake make this a great destination for a family holiday.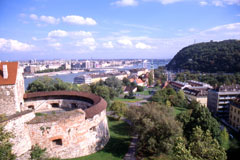 Budapest Coach Tour Highlights
Buda Castle

The historical castle complex was first completed in 1265. The World Heritage Site affords wonderful design, masterful fountains and other artworks all around the castle.

Szechenyi Chain Bridge

This bridge across the Danube conjoins the two parts of the city Bud and Pest. Completed in 1849, the bridge offers wonderful decorations and illuminations at night-time.
Dohany Street Synagogue
This is the largest Synagogue in Eurasia. The synagogue was finished in 1859 and is a strong reminder of the holocaust, housing the Jewish Museum.
Andrassy Avenue
The Avenue is not only Budapest's main shopping street, with cosy cafes, restaurants, theatres and boutiques but also a World Heritage Site due to its spectacular neo-renaissance mansions with fine facades and interiors.
Heroes Square
Right at the end of Andrassy Avenue, the Heroes Square is located. It is rich with political and historic connotations and provides a wonderful structure.
Coach trips to Budapest
Whenever you choose to take a coach trip to Budapest you are sure to enjoy the sights and attractions in and around the city to provide a memorable holiday experience. If you cannot find a suitable coach trip to Budapest contact us and our experienced advisers will help find your ideal break.
If coach holidays to the Budapest are not for you we have a wide range of coach holidays and trips that take in other cities in Hungary that may be of interest.