Coach Trips to Budapest
Discover the Hungarian capital of Budapest with our touring holidays through the beautiful cities of Central and Eastern Europe. Budapest is one of the most beautiful cities in Eastern Europe and a real treasure for anyone who loves culture and heritage. Coach Trips to Budapest would not be complete without a romantic river cruise along the majestic Danube River. Join a wonderful guided city tour of Budapest and enjoy spectacular views and stunning architectural styles. And of course try the traditional Hungarian dishes and drinks, you will be really surprised how delicious they are.
So if you decided to visit Budapest just use our search to find available coach tours or river cruises in Budapest. We also offer discounts on some touring holidays to Europe, so have a look at our offers, give us a call and we will happily book it for you.
Top Attractions in Budapest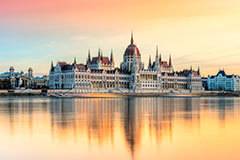 Hungarian Parliament
The Hungarian Parliament Building is an impressive architectural construction and a very popular landmark for all tourist visiting Budapest. You may join a Danube river cruise for the best views over the building and other notable sites in Budapest.
Buda Castle
Visit the World Heritage site of Buda Castle and admire great views over Budapest from the Castle Hill that is best reached by the Funicular Railway. The historical castle complex was first completed in 1265. The World Heritage Site affords wonderful design, masterful fountains and other artworks all around the castle.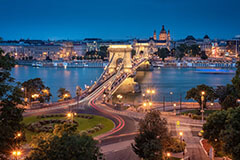 Szechenyi Chain Bridge
The Chain Bridge is another fabulous constructions in the city with a great and significant history. This bridge across the Danube conjoins the two parts of the city Bud and Pest. Completed in 1849, the bridge offers wonderful decorations and illuminations at night-time.
Fisherman's Bastion
Built during the 19th century for the Hungarian Millennium celebrations, The Fisherman's Bastion is one of many sights on top of the Castle Hill.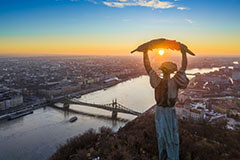 Danube River
The mighty Danube is the second longest river in Europe. Just walk along the river bank and enjoy wonderful view over the river and tourist sites along the way. Also a night river cruise is a fantastic experience with all the lighted bridges, shore buildings and other river boats.
Heroes Square
Right at the end of Andrassy Avenue, the Heroes Square is located. It has arch shaped monument with statues of several national heroes of Hungary and is rich with political and historic connotations.
If you are interested in heritage and culture of Eastern and Central Europe then you will definitely enjoy coach touring holidays through Austria, Czech Republic, Poland and Hungary. Our escorted holidays to the heart of Europe will allow you to visit the most beautiful cities, including Vienna, Prague, Krakow and Budapest.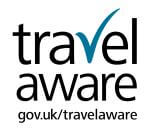 Remember, we are the UK's leading coach holiday website and have excellent value coach holidays to the UK, Europe and more with the widest choice and best prices.
We are working with the Foreign and Commonwealth Office (FCO) to help British nationals stay safe abroad. The FCO website (www.fco.gov.uk/travel) offers straightforward travel advice, top tips and up to date country information to help you plan your holiday. Stay safe overseas, know before you go.
Back to search for trips to Budapest