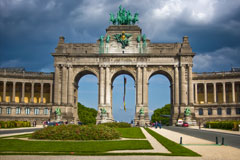 Coach Holidays to Brussels
The city of Brussels might be the most international city in the whole of Europe. Not only is it the de facto capital of the EU but also home to numerous organizations, politicians and diplomats. This international, polyglot influence keeps the city at the pulse of time. Its beautiful old town centre far off from this stunning velocity of development, offers countless small cafes and restaurants amidst beautiful decorated buildings.
To find cheap coach holidays to Brussels use the search form to the left where you can get the best Brussels coach tours and trips available. We are the leading UK coach holiday website and have the largest selection of coach holidays to Brussels, Belgium and destinations across Europe with departures from across the UK.
Brussels Coach Tour Highlights
A couch tour to Brussels will offer a huge list of sites and attractions to fill your itinerary. Here are but a few highlights of a Brussels coach holiday.
Grand - Place
Narrow cobbled streets lead to the vast Grand-Place, an UNESCO World Heritage Site and the economic and social heart of Brussels since the Middle Ages with its beautiful decorated houses and the impressive Hotel de Ville.
Manneken - Pis
The statue of a urinating boy is a symbol of irreverence and Bruxellois self-mockery. Throughout the year it is decorated with different costumes.
Centre Belge de la Bande Dessinée (Belgian Comics Strip Centre)

This museum displays the history of Belgian comic strips complemented by modern cartoons and temporary exhibitions.

Atomium

Built for the 1958 World Fair this model of an oxygen molecule provides for a panoramic view of Brussels.

Mini - Europe

The whole of Europe in only one day can be seen right here in this miniature park.
Coach Trip Offers to Belgium
Whenever you choose a coach holiday or coach trip to Brussels you are sure to find plenty to see and do. If you cannot find a suitable coach trip to Brussels contact us and let our experienced operators help find your perfect holiday. If coach holidays to Brussels are not suitable we have a wide range of coach tours and trips that take in other destinations in Belgium that may be of interest.
Remember, we are the UK's number 1 for coach holidays to Brussels, Belgium and the rest of Europe so don't miss out on the best deals and book your holiday now.