Coach Holidays to Bruges
"The Venice of the North" With its multitude of canals throughout the marvellous old city centre, which is an approved World Heritage Site by the UNESCO, the small town of Brugge offers a romantic experience. The beautiful historic architecture provides for wonderful breaks at this charming city which is one of the most popular destinations for coach holidays to Belgium
Find cheap coach holidays to Brugge using the search form to the left where you can get the best Brugge coach tours and trips available. Alternatively use the offer grid below where our cheapest Brugge coach trips are listed.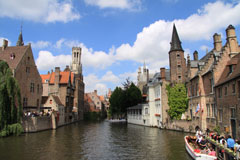 Brugge Coach Tour Highlights
Bruges coach holidays are a great way to visit the sights of the stunning historic city. The main points of interest of a coach trip to Bruges are as featured below.
Historic City Centre

The historic centre of Bruges has been a UNESCO World Heritage Site since 2000.

Church of Our Lady

The 122 metre Church remains the tallest building in town dating back to the 13th century.

Madonna and Child

The Madonna of Bruges is a marble sculpture by famous Michelangelo.

Belfry

The belfry formerly housed a treasury and the municipal archives and is now accessible by the public through a steep staircase of 366 steps.
Coach holidays to Belgium
Whenever you choose a coach holiday or coach trip to Bruges you are sure to find plenty to have a great time. If you cannot find a suitable coach trip to Bruges contact us and let our experienced operators help find your perfect holiday. If coach holidays to Bruges are not suitable we have a wide range of coach tours and trips that take in other destinations in Belgium that may be of interest.
Remember we are the UK's leading coach holiday supplier and have the widest range and cheapest coach trips to Bruges, Belgium and other European destinations.