Coach Holidays to Brighton
This unique, fun and historic city of Brighton is one of the most popular destinations in the UK. We have a wide range of coach holidays to Brighton and Eastbourne with great deals available for summer 2019.
More about Brighton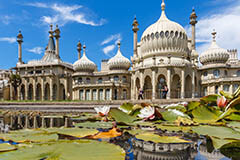 Until the late 1700s when its status was propelled into being one of the most fashionable cities in the South of England, Brighton was a small fishing town. However in the mid-1700s it was claimed that the salt water of Brighton had medicinal purposes and so people began to flock to this sleepy little town. It's thought that the arrival of the Prince Regent (who later became George IV) was what sparked Brighton into becoming one of the most fashionable towns on the south coast.
In the 1800's the town strengthened further, with the opening of the London to Brighton railway line and the building of the Palace Pier, and the Victorian era saw the building of some of Brighton's most famous landmarks today. These landmarks, the beach and surrounding attractions have made Brighton a popular coach holiday destination over the years.
Nested on the south coast Brighton offers seaside delight, famed nightlife and year round festivals and events. Coach holidays to Brighton provide the opportunity to visit a wide range of attractions and places of interest.
Top Things to do in Brighton
The Lanes
Set in the historic quarter the lanes are a maze of delightful alleyways. Packed with quaint shops and trendy restaurants and cafes, the Brighton Lanes are a wonderful place to explore. Buskers often liven up the streets adding to the pleasant atmosphere.

Royal Pavilion
Transformed by John Nash, into one of the most stunning and exotic buildings in the British Isles. This spectacular palace of the Prince Regent houses a wealth of luxuries, furniture and works of art.

Sea Life Centre
The Brighton sea life centre offers a fun family day out, whilst learning about the various inhabitants of the sea. With over 150 species and 57 displays, there is something to capture everybody's imagination.

Brighton Palace Pier
A traditional Victorian pier with plenty to entertain. Why not stop at the amusements and funfair or maybe grab a bite to eat.

Brighton Marina
One of Europe's largest marina's, Brighton Marina is home to a great range of entertainment; you will be spoilt for choice with the amount it has to offer.

Volks railway
Running every 15 minutes for one and a quarter miles along the top of the beach from the Aquarium Station to the Marina, Volks railway is Britain's oldest electric railway dating back to 1883.

Queens Park
One of Europe's largest marina's, Brighton Marina is home to a great range of entertainment; you will be spoilt for choice with the amount it has to offer.

Booth Museum of Natural History
With over half a million specimens, natural history, literature and data extending back over three centuries Booth museum of natural history is an enjoyable day for all ages.

Brighton Museum and Art Gallery
These innovative galleries are home to a variety of work, including fashion and style, 20th century art and design, and world art.

Brighton Toy and Model Museum
Become a child again as you explore the Brighton Toy and Model Museum, packed full of childhood treasures, it is a wonderful place for all ages.
If you cannot find a suitable coach holidays to Brighton contact us and let our experienced travel agents help you find your perfect coach holiday to South Coast or any other destination in England.
Remember, we are the UK's leading coach holiday website and have excellent value coach holidays to the UK, Europe and more with the widest choice and best prices.
Back to search for holidays to Brighton