Coach Holidays to The Black Forest
The wooded mountain range in south-west Germany covers an area of about 12,000 sqm. It offers an enormous biodiversity of plants and woods and animals like boar and deer of all kinds. The dazzling allure of the landscape is incredible. In the marvellous mountain range, you will find impressive hiking-trails and walking-paths that lead up to charming views across the landscape of this wonderful area. However, it is not only woods and rocks. The area provides beautiful lakes and natural rivers flowing through the valleys. Furthermore, you will find wonderful small cities with original German cookery and welcoming hospitality.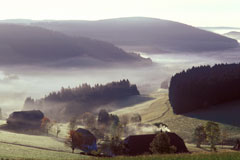 The Black Forest Christmas Markets
The Black Forest christmas markets are set against the backdrop of this beautiful area of Germany and there are a good choice of markets available. At coachholidays.com we have all the best coach tours and trips to the Black Forest christmas markets. Use the search form to find Black Forest christmas market coach tours or contact us and our advisers will help find the right trip for you. As well as great deals to christmas markets in the Black Forest we also offer coach holidays to other popular christmas markets in Germany.
Coach trips to the Black Forest
Whenever you choose to take a coach trip to the Black Forest you are sure to enjoy the sights and scenery in this region to provide a memorable holiday experience. If you cannot find a suitable coach holiday to the Black Forest contact us and our experienced operators will help find your perfect break. If coach holidays to the Black Forest are not for you we have a wide range of coach holidays and trips that take in other regions of Germany that may be of interest.