Coach Holidays to Berlin
Berlin is not only Germany's capital but also its biggest city with our 3 million people living at the Spree. Ever-expanding and at the pulse of time. From diversified nightlife to worth-seeing museums. From lovely parks to historic sites. The juvenile metropolis has got it all.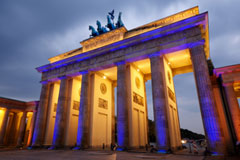 Berlin Coach Tour Highlights
Brandenburger Gate

Located 'Unter den Linden' at a stone's throw away from the "Reichstag" the Brandenburger Gate, through which Berlin once was entered, is one of Europe's most famous landmarks.

Berlin Wall

The former barrier between East and West, once a symbol for the Iron Curtain, can be traced all across Berlin.

Museum Island

This island in the Spree, in the centre of Berlin, is home to 5 Museums extraordinaire.
Victory Column (Siegessaeule)
Erected in 1873 as a reminder of the victorious Prussian warfare, the Victory Column is today one of Berlin's major attractions.
Bellevue Pallace
Since 1994 the official seat of the German Federal Presidents.
Holocaust Memorial
Inaugurated in 2005, sixty years after WWII, the Memorial serves as a remembrance for the jewish victims.
Sanssouci, Potsdam
Along the lines of the Palace of Versailles, this huge site entertains with its copious symmetric park and garden and its precious historical estate.
German Reichstag
The Reichstag building was opened in 1894 and has ever since housed the German Parliament.
Coach trips to Berlin
Whenever you choose a coach trip to Berlin you are sure to enjoy the many sights and attractions in and around the city to provide a wonderful holiday experience. If you cannot find a suitable coach holiday to Berlin contact us and our experienced operators will help find your perfect break. If coach holidays to Berlin are not for you we have a wide range of coach holidays and trips that take in other cities and regions of Germany that may be of interest.