Coach Holidays to Belgium
Coach trips to Belgium include visiting most popular destinations like Bruges, Ostend, Ghent and Flanders Battlefields. We have a wide range of cheap holidays to Belgium from short weekend breaks to long escorted tours, as well as a selection of packages with Eurostar connections. Also during the festive season coach trips to Brussels, Ghent and Bruges Christmas markets are very popular.
More about Belgium Holidays
Bruges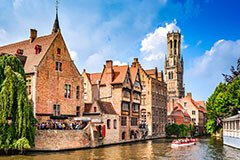 The famous Bruges is the historic capital of West Flanders and is now one of the most visited destinations in Belgium. Explore this charming medieval city with its canals, cobbled streets, stunning architecture and shops selling the famous Belgian chocolate. Be sure to wander around the historic centre of Bruges, one of the UNESCO world heritage site. Make sure to see the Basilica of the Holy Blood, the Groeningemuseum and visit Bourgogne des Flandres Brewery on your next coach trip to Bruges.
Ghent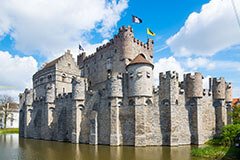 Visit the medieval town of Ghent in the heart of Flanders. This well preserved historic town with cobbled streets, narrow alleys and traditional canals is very similar to Bruges, however is less crowded with tourists. Explore the charming city of Ghent with its medieval architecture and some of Belgium's most fascinating museums like the Ghent City Museum and Museum Dr. Guislain. Walk along the canal near the Graslei and Korenlei, see St Michael's Bridge and other wonderful areas in Ghent's city Centre.
Brussels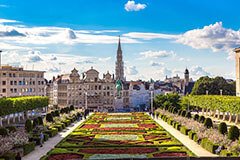 A vibrant modern city of Brussels is the centre of the European community and a multi-cultural melting pot. This capital of Europe offers a wide range of attractions, historical places and museums to be enjoyed on your coach break. Visit the impressive Grand Place, the main square and enjoy its amazing architecture and ambience. See the Atomium – a unique landmark building and the symbol of Brussels. The Museum of Natural Science is also not to be missed when visiting Brussels.
Antwerp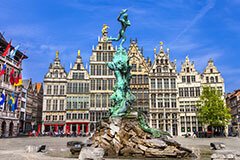 In the province of Flanders lies the beautiful city of Antwerp which stands on the River Scheldt. The picturesque seaport has always been an important city in the nations of the Benelux both economically and culturally. Antwerp has also become a place where tradition meets modernity. Recommended places to visit are Museum aan de Stroom, Museum Plantin-Moretus, Rubens House and Central Station.
Ostend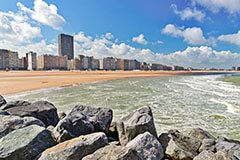 Ostend is the largest Belgium seaside resort with fine sandy beaches stretching for miles. You can have a great time in Ostend, walk along the promenade between golden sands and pretty gardens, or relax at one of the many local cafes. Apart from coastline you can visit Atlantic Wall Museum, IJslandvaarder Amandine and have a look at the famous Mercator ship. Don't forget to try local freshly made mussels and shrimps.
Ypres Battlefields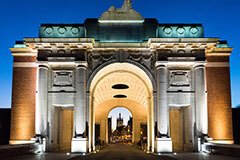 The area around the ancient town of Ypres is famous for being a historical battleground with numerous historical sites and remains. Visit the Ypres Salient, the scene of some of the biggest battles of WW1. Pay your respects to fallen heroes, staying for the Last Post Ceremony at the Menin Gate, which is held each evening at 8pm. Also be aware that most battlefields tours requires a reasonable amount of walking.
Whenever you choose a coach holiday to Belgium you are sure to see many sights and attractions at this amazing county. If you cannot find a suitable coach holidays to Belgium contact us and let our experienced travel agents help you find your perfect coach trips to Belgium or any other destination in Europe.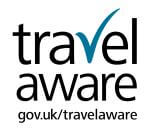 Remember, we are the UK's leading coach holiday website and have excellent value coach holidays to the UK, Europe and more with the widest choice and best prices.
We are working with the Foreign and Commonwealth Office (FCO) to help British nationals stay safe abroad. The FCO website (www.fco.gov.uk/travel) offers straightforward travel advice, top tips and up to date country information to help you plan your holiday. Stay safe overseas, know before you go.