Coach Holidays to Bath
Bath is a great place to visit on a UK coach holiday. We have a great selection of coach holidays that offers a unique experience when visiting Bath. Search now for some excellent deals on coach trips to Bath.
More About Bath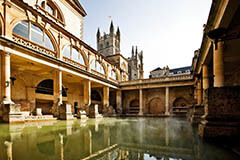 Bath is an ideal destination for a coach trip as there are a wide variety of attractions and places of interest to visit in the city and the surrounding area. It is a unique and lively city, its hot springs, Roman Baths, magnificent Abbey and Georgian crescents have attracted coach trip visitors from across the world. If that was not enough to tempt you, the entire city of Bath has also been awarded the status of a world heritage site, something quite rare for an entire city to receive as only a few cities in the world have received the title (Strasbourg and Florence among the selected few). Set amongst the beautiful Somerset countryside Bath offers visitors a mix of richness, diversity and culture
Bath is rich in Roman and Georgian heritage. Built up from roman remains, Bath has since developed into a stunning Georgian city with breathtaking architecture which makes it a popular coach holiday destination for those looking for a cultured holiday. Bath has been a popular destination for centuries. Maye Austen herself was inspired by this beautiful city and wrote of it in 2 of her 6 published novels, as well as taking residence within the city itself.
Top Things to do in Bath
The Roman Baths
A fascinating portal into ancient history, the Roman Baths beautifully preserved are a must see for any visitor to Bath. Below the modern street level the baths have four main features, the Sacred Spring, the Roman Temple, the Roman bathhouse and finds from Roman Bath, all of which are worth a visit.

Bath Abbey
Located just beside the Roman Baths, the Abbey is absolutely beautiful. Stunning stained glass windows and a wonderful ceiling.

Fashion Museum Bath
If you're a lover of history and fashion, this exhibit is the place to go. The Fashion Museum Bath houses and develops a world-class collection of historical fashionable dress. You can see how fashion changed as time passed, as well as try on some Victorian clothes.

No.1 Royal Crescent
No.1 Royal Crescent is a magnificently restored Georgian town house that creates a picture of life in Georgian Bath. It provides visitors to the Crescent with an opportunity to look beyond the famous Palladian facade and view what life might have been like for the wealthy in 18th century Bath.
If you cannot find a suitable coach holidays to Bath contact us and let our experienced travel agents help you find your perfect coach holiday to Bath or any other destination in England.
Remember, we are the UK's leading coach holiday website and have excellent value coach holidays to the UK, Europe and more with the widest choice and best prices.
Back to search for holidays to Bath