Coach Trips to Austria
Travel to magnificent Austria by coach and explore every bend of its breath-taking scenery from stunning mountain regions and picturesque lakes to historic cities like Mozart's Salzburg, romantic Vienna and beautiful Innsbruck.
Book your coach holidays to Austria with us and enjoy great savings on most tour operators like Shearings, Alfa, Leger and National. We also have a number of great deals on coach holidays to the Austrian Christmas Markets for this winter.
More about holidays to Austria
Vienna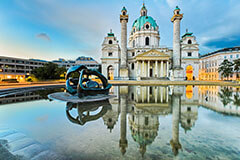 The capital of Austria, Vienna is situated on the Danube River in the eastern part of the country. This charming and cultural city offers rewards to anyone who is interested in the arts. Vienna is an amazing city with magnificent baroque buildings, elegant gardens, museums and tons of history and culture that can be found around every corner. Therefore Vienna is a top destination for a cultural European city break.
More about trips to Vienna
Salzburg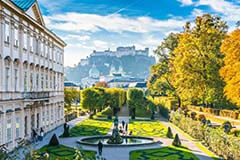 Hidden in the heart of the Austrian Alps on the banks of the river Salzach, Salzburg is one of Europe's loveliest cities and the birthplace of Mozart. "The Sound of Music" city Salzburg is one of Europe's best preserved historic cities that is rich in music, art, history, charm and romance. With snowy mountains and delightful Christmas markets, visiting Salzburg in winter is like stepping into a fairytale.
More about trips to Salzburg
Austrian Tyrol & Innsbruck.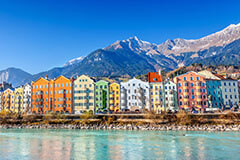 Discover the most beautiful regions of Tirol that offers fantastic hiking paths and stunning views of lakes and valleys in summer, and is one of the best skiing areas in winter. The beautiful Innsbruck is the capital of Tyrol region, offering a unique combination of urban living, alpine nature and fair climate.
Austrian Lakes & Mountains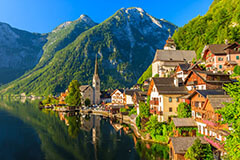 There are many magnificent lakes in Austria that offer spectacular scenery and relaxing boat trips and they are popular both with travellers and local residents. Austrian lakes surrounded by snow-capped mountains, lush meadows and traditional alpine villages, could be your next favourite "Lakes & Mountains" destination for summer holidays.
Looking for more destinations in Europe?
If you cannot find a suitable tour to Austria contact us and let our experienced travel agents help you find your perfect holidays to Europe.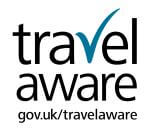 Remember, we are the UK's leading coach holiday website with the widest choice of excellent value coach holidays in the UK and abroad
We are working with the Foreign and Commonwealth Office (FCO) to help British nationals stay safe abroad. The FCO website (www.fco.gov.uk/travel) offers straightforward travel advice, top tips and up to date country information to help you plan your holiday. Stay safe overseas, know before you go.
Back to search for tours to Austria