Escorted Tours to Athens
The capital of Greece, Athens, is said to be the oldest city in the world, stemming back over 3,400 years. Ever since the first settlements, the city has been known a major centre in culture, economy, politics and industry. Furthermore, Athens is popular for its reputation as a source of art, education and philosophy. This is still evident in the city, which is characterised by ancient monuments, temples and landmarks showing the long tradition and history of Athens, that has literally gone from "Acropolis to Metropolis".
Athens guided tour highlights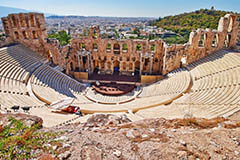 Acropolis of Athens
The imposing Acropolis overlooks the city on an area of about 3 hectares. The well-preserved edifice dates back to the 5th century BC and is the most famous landmarks of Greece with its marvellous white marble columns.
Odeon of Herodes Atticus
The enormous amphitheatre was built in 161 AD on the south slope of the Acropolis. The structure had a capacity of over 5,000 and was used for theatre plays and musical performances in ancient times
Philopappos Monument
This monument is located southwest of the Acropolis and houses the mausoleum of a Greek Emperor of the early first century. The tall landmark offers stunning architecture and is a stickler for sculpture details.
Temple of Olympian Zeus
The temple built in the 2nd century AD was once the largest religious facility in ancient Greece. Its remains let you only imagine how enormous this temple once used to be.
Looking for more European holidays?
If you cannot find a suitable tour to Greece contact us and let our experienced travel agents help you find your perfect holiday to any destination in Europe.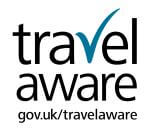 Whenever you choose to book a coach trip to Greece you are sure to have a great time and take some amazing memories away with you from your holiday in this popular area. If you cannot find a suitable coach holiday to Greece on our website contact us and our experienced advisers will help find your perfect break.
We are working with the Foreign and Commonwealth Office (FCO) to help British nationals stay safe abroad. The FCO website (www.fco.gov.uk/travel) offers straightforward travel advice, top tips and up to date country information to help you plan your holiday. Stay safe overseas, know before you go.
Back to search for holidays to Greece