Coach Holidays to Alnwick
Search for coach holidays to Alnwick and book discounted coach trips to Alnwick and Northumberland with coachholidays.com. Picturesque Alnwick is situated in the centre of Northumberland and the district of Alnwick covers a third of the Northumberland National Park starting from the North Sea Coast between Low Newton - Amble all the way to Elsdon near Otterburn in the South West. This stretch of the Northumberland coast is designated as an Area of Outstanding Natural Beauty and is the home to grey seals, dune flowers, over-wintering birds and summer seabird colonies.
We offer a range of coach trips to Alnwick from short and weekend breaks to coach tours that visit Alnwick and Northumberland as part of wider travel plans. Coach holidays to Alnwick take in the wonderful Northumbria coast, Alnwick Castle and much more. Our coach holidays to Alnwick are available throughout the year with over 500 local departure points across the UK. If you are planning a holiday for this summer or later in the year we have a wide selection of coach trips to Alnwick in 2017 with great deals available. Traditional holiday times sell out fast so if you are looking for coach trips to Alnwick during the summer holidays book in advance to get the best prices.
Read on for our latest Alnwick coach holiday offers and more information about the sights and attractions in this beautiful town.
Alnwick History
Alnwick originally developed as a medieval market town, and it still retains many of its cobbled streets, narrow alleys and fine stone buildings which now house a range of specialist shops, family businesses, accommodation and some of the original coaching inns. It is now known as one of the most picturesque market towns in England but is probably best known for its stunning castle, Alnwick Castle.
Places of interest/attractions in Alnwick
Coach holidays to Alnwick provide the opportunity to visit a wide range of attractions and places of interest.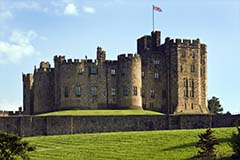 Alnwick Castle
This is the most popular landmark in Alnwick. The castle is a fascinating place to visit, and with so much to do and learn it's a great day out for all ages. There is a variety of refreshment options, shopping, activities for kids, history, art and not forgetting the breathtaking scenery.
Alnwick Garden
The Alnwick Gardens have a wide range of flowers and plants with a fascinating range of spaces with a variety of themes. Some of the main features are the Ornamental Garden , Serpent Garden , and Rose Garden and the Labyrinth bamboo maze that will surely confuse the smartest visitors.
Alnwick Market Town
Alnwick's markets have been happening for more than 100 years. Alnwick hosts a regular Saturday market, and between March and Christmas there is also a Thursday market. The markets always have a friendly and relaxed atmosphere to be enjoyed by both locals and visitors.
Barter Book Store
Barter Books is the only library in Britain for second hand books and has a wide range of every kind of book. There is also a shop that has a play area for kids, refreshments and a model railway, as well as other seasonal features such as open fires in the colder months.
The Bailiffgate Museum and Gallery
The Bailiffgate Museum brings life to the history of Alnwick and the surrounding areas of North Northumberland in a lively, interactive style, through an exploration of six different themes
The Bakehouse Gallery
Housed in what was once the old town bakery, the Bakehouse Gallery offers visitors a deceptively large space in which to view the work of many local artists and designers. It is a tranquil art gallery with high quality pieces of artwork just waiting to be viewed by the public.
Special Events in Alnwick in 2017
Alnwick's Market Place is a centre for local events including an international music festival and its own food festival. The town also has a lively night life with its own theatre and pubs which often host live music. Alnwick is fast becoming one of the country's top tourist destinations, and when you visit you'll soon discover why. If you are considering a coach holiday or coach trip to Alnwick in 2017 the following are a selection of well attended events taking place in Alnwick throughout the year. So if you are interested in attending these events search for your coach holiday to Alnwick around these dates.
| | |
| --- | --- |
| Alnwick Castle | Oppen: 24th March - 30th October 2017 |
Whenever you choose a coach holiday or coach trip to Alnwick you are sure to find plenty to see and do. If you cannot find a suitable coach trip to Alnwick contact our coach holiday operators who will help you find your perfect trip.
Back to coach holiday destinations in England
You may also be interested in:
Coach holidays to Edinburgh
Coach holidays to Newcastle
Remember we are the UK's leading wesbsite for coach holidays to Alnwick and other destinations in England, Europe and around the world so see how much you can save on your coach holiday by booking with Coachholidays.com