Escorted Tours to South Africa
Escorted Tours to South Africa are a truly memorable journey of discovery that will leave you spellbound. Southern Africa is home to some of the world's most beautiful scenery, natural wonders, fascinating history and incredible wildlife.
At Coachholidays.com we have a wide range of worldwide guided holidays and escorted tours to Africa's best destinations. Our selected escorted tours can fulfil any expectation from holidays in South Africa: magnificent wildlife, beautiful Cape Town, safari adventures, Victoria Falls and many more.
Popular places in South Africa
Kruger National Park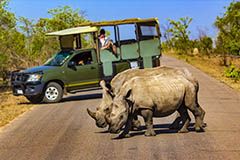 South Africa's largest game reserve, Kruger is home to the Big Five – lions, elephants, buffalos, leopards and rhinos. Enjoy an unforgettable day of adventure and excitement join an open-air-vehicle safari game drive. Remember to keep your eyes peeled and your camera ready, as there are nearly 150 different species of mammals in the park, together with hundreds of bird species.
Knysna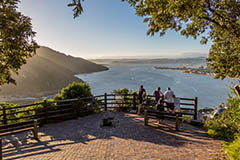 The small coastal town of Knysna is a favourite for its stunning lagoon location, numerous art galleries, craft shops and trendy cafes. Knysna is situated in the heart of the Garden Route and is the perfect town to stay while exploring the surrounding areas. Visit Tsitsikamma National Park, a protected area on the Garden Route, and a well known coastal reserve with its indigenous forests and dramatic coastline.
Cape Town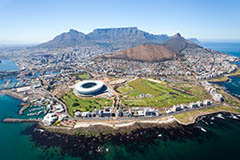 Cape Town is considered by many tourists to be one of the most beautiful places on the planet. On one side, the city is surrounded by majestic mountains and on the other by the waters of a beautiful bay. Epic scenery, winding coastlines, remarkable cultural diversity and abundant wildlife come together in an incredible experience. The Table Mountain is a symbol of the city, it is even depicted on the flag of Cape Town. Step aboard a cable car that whisks you to an altitude of more than 3,000 feet atop Table Mountain. Wander through the cobbled streets of Cape Town centre, admiring the different architectural styles influenced by Dutch, French, English and German cultures.
Before you travel to South Africa
Whenever you choose to book an escorted tour to South Africa you are sure to have a great time and take some amazing memories away with you from your holiday in this popular area of African continent. If you cannot find a suitable tours to South Africa on our website contact us and our experienced advisers will help find your perfect holiday. We are working with the Foreign and Commonwealth Office (FCO) to help British nationals stay safe abroad. The FCO website (www.fco.gov.uk/travel) offers straightforward travel advice, top tips and up to date country information to help you plan your holiday.