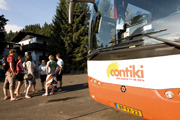 Contiki Holidays
Save 3%* on all Contiki holidays
About Contiki Holidays
We don't just offer a destination... We deliver an experience!
For a life-changing adventure, Contiki is the must-have travel companion. For 47 years, young travellers have trusted us to show them the world. They've watched people conquer their fears, try something new, learn a different language and embrace exotic cultures. But, most importantly, they've also seen complete strangers become friends and unlikely couples fall in love. They don't just offer a destination, they guarantee an experience.
On Contiki, everyone's 18 to 35 so there's always someone ready to get in on the action or share an adventure, whether it be celebrity spotting in LA, braving Amsterdam on a bicycle, sipping coffee at a cafe in Rome or snorkelling the Great Barrier Reef near Cairns. Be warned – the enthusiasm on a Contiki coach is catching, so solo and tandem travellers alike will return home with both a full address book and spirit!

New to the menu:Asia and Mexico!
Satisfy your craving for something exotic, something spicy, something totally out of the ordinary with Contiki's new tours to Asia and Mexico!
The diversity Asia offers is mind-blowing. So not only will your Contiki Asia tour be about sightseeing and travel experiences, it can also include things like home stays with local families, river tubing on the Mekong River, cooking classes in historic palaces and working with local farmers!

Because some like it hot, Contiki has created new tours to Mexico. And with such a variety in activities and experiences just waiting to be explored south of the border, you can be sure that things will get spicy with Contiki! From the lively sprawling metropolis of Mexico City, to the lush jungles of the Yucatan, time-warped colonial towns, ancient Mayan ruins and glitzy beach resort scene, Mexico with Contiki will fascinate!
*Terms and Conditions: 3% discount only applies to holidays over £150pp.