Shearings Coast & Country Hotels -
Save 3%*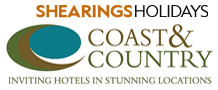 About Coast & Country Hotels
Coast & Country Hotels Situated in some of the UK's finest destinations, Coast & Country hotels are perfect for that special break. You'll find it easy to relax and unwind with welcoming bars, stunning scenery and, in a number of hotels, extra facilities such as spas, pools and gyms to enjoy.
Hospitality Assured
Hospitality Assured is the quality standard created by the Institute of Hospitality and accredited businesses must demonstrate they meet the awards standard for service and business excellence. Hospitality Assured is a process of continuous improvement to encourage businesses to look at their own operation from the customer's perspective and to see where improvements should be made to benefit the business. This is done by looking at how businesses score against the criteria in Hospitality Assured's nine step standard from customer research through to service delivery.
Excellence Through People
Coast & Country Hotels are proud to hold the prestigious Excellence through People award from the British Hospitality Association which recognises and encourages best employment practices on recruitment, training and development, recognition and rewards, benefits and employment policies.
The aims of an Excellence through People employer is to encourage the development of employees to full potential through training, development, communication and involvement. This underlines Coast & Country Hotels commitment to training and developing our staff to help towards the achievement of both personal and business goals.
Investors in People
Coast & Country Hotels are totally committed to the training, development and well being of all of our people. Investors in People is a nationally recognised framework that helps organisations to improve their performance and realise their objectives through the effective management and development of their people. Having Investors in People accreditation involves working to a sophisticated framework of best practice. Regular Independent reviews are undertaken independently by Investors In People assessors to ensure that companies who have achieved accreditation continue to work within this framework.
Tripadvisor
TripAdvisor's Certificate of excellence is an award that is given to members of the hospitality business that are proven to be outstanding, and we have received praise and recognition in reviews from TripAdvisor travellers.
n order to qualify for the award businesses need to maintain an overall 4-star or above TripAdvisor rating. Receiving this prestigious award places us in the top-performing 10% of all businesses worldwide on TripAdvisor, so we're incredibly proud of our hotels that have obtained this recognition.
Terms and Conditions
*Terms and Conditions: 3% discount only applies to holidays over £130pp