CIE Tours -
Ireland & Britain
All CIE Tours Ireland & Britain travel programs are protected by the companys £350+ advantage, a no-fee benefit guaranteeing that our guests are never charged for special features considered optional extras with other tour operators.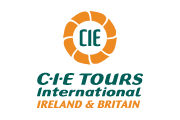 About CIE Tours
85 Years of Experience
Itineraries 5-24 Days
Guaranteed Departures
Fully Inclusive Tours
Over 50 Different Coach Tours
Local Friendly Tour Guides

CIE Tours International has provided travellers with the highest quality holidays to Ireland and Britain and continue to improve their tours and services.
Over the years CIE Tours have built up an enviable reputation for security and reliability with satisfied clients throughout the world. They set their own high standards for delivering excellent holidays with state-of-the-art luxury coaches; prompt and pleasant customer service; the best hotels; and carefully chosen visits and entertainment.
CIE Tours coach tours are fully inclusive with no optional extras to purchase at your destination. You pay one price and they insist that their tour directors focus solely on your enjoyment. Once you pay the deposit, CIE Tours International guarantee their land tour prices. If you prefer to travel independently, CIE Tours offer self-drive and chauffeur-drive programs for Ireland with a wide range of hotel accommodation, which can be booked in advance, as well as popular B & Bs.
Sightseeing Visits
CIE Tours includes a variety of attractions on every tour for an interesting travel experience. Check each tour itinerary to see exactly which places are featured. Admission costs are included in the tour price so that you don't waste time paying as you enter each attraction.
Group Airport Transfers
As a newcomer to an airport, it's great to have someone meet you. CIE Tours include complimentary group transfers on the starting and ending date of tours at times specified on each itinerary. If you arrive or depart later than their tour dates, you may purchase a transfer from us.
Hotels
CIE Tours uses three classes of hotels first class (3-star), superior first class (4-star) or deluxe (5-star) properties on all tours. First class hotels feature a dining room, lounge, bar and comfortable rooms with many facilities. Superior first class hotels offer the same amenities with higher standards and many have leisure and spa facilities. Deluxe hotels offer luxurious features and are often in unique settings. CIE Tours choose hotels in central locations or scenic regions and they name the hotels used on each tour.
Baggage Handling
Once you meet your tour director, you don't have to handle your luggage! At every hotel your suitcase is delivered to your bedroom door and collected on departure. However, luggage is restricted to one suitcase and one piece of carry-on baggage per person.
Please Note: Children under 8 are not permitted to travel on coach tours. Children 8 or over are charged the full adult rate (less 10% discount) and must travel with an adult.
Departure Points
I'm sorry we currently don't have any tours available for this operator.