Christmas Markets by Coach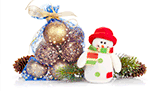 Christmas Markets 2016

Christmas markets offer a different twist to the festive season; stalls bursting with traditional crafts, unusual gifts and local treats, they are ideal for a last-minute shopping spree! Each Christmas market has an enchanting character of its own, with an overwhelming romantic and quaint atmosphere. Dancing glittering lights and the occasional fluttering of snow only serve to enhance a special pre-Christmas glow.
Search all European Christmas Markets below or alternatively visit our UK Christmas Markets page.
European Christmas Markets 2016
You can travel to some of the most desirable European destinations in November & December including Germany, France, Belgium & Austria where there are an abundance of Christmas markets to choose from. These Christmas market holidays are a great way to really take part in and experience the way fellow Europeans celebrate the festive season. Delight in traditional foreign diversions that will most certainly involve live music, lots of local gorgeous fare and fun, whilst observing the quieter, reverent spiritual rituals. There are a wide range of Christmas markets to choose from, the only problem you will encounter is deciding on your personal choice!