Cairngorm Travel -
Explore the best of Britain and Europe
About Cairngorm Travel
When you holiday with Cairngorm Travel you discover a new experience on their luxury executive coaches as you relax and view the scenery as the world goes effortlessly by. Whether you are touring the Scottish Highlands or journeying to the picturesque far corners of Europe you are assured a safe, enjoyable and relaxing experience.
Cairngorm Travel has owned and successfully operated the Duke Of Gordon Hotel, the premier privately owned hotel in the Scottish Highlands for over 25 years with the vast majority of their customers becoming old friends and returning times many. The Duke, with its long standing Scottish heritage, became a regular filming venue for the highly successful BBC TV series MONARCH OF THE GLEN.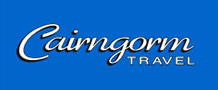 Cairngorm Travel has been offering UK and Continental coaching holidays for over 30 years. They are a Member of ABTA which means that they live up to the high standards set by ABTA's Code of Conduct and that the money you pay them for package holidays is fully protected.
Call us on 020 8686 2378 to talk to our UK based Reservation Team