Brend Tours -
A full range of Coach Day Trips and Coach Holidays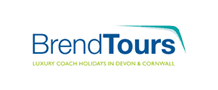 About Brend Tours
Brend luxury coach holidays are simply the easiest way to see all the West Country has to offer, including its finest hotels.
Door to Door Home Collection Service
New Door to Door Home Collection Service is now available. They ferry you in style and comfort to the Brend Hotel of your choice.
At the start of your holiday one of their mini-buses will collect you from your own front door and take you and your luggage to the coach. Then on your return the mini-bus will be waiting ready to transport you and your luggage back home again. Making your holiday with them more relaxing and enjoyable.
Award-winning Hotel Group
They are the West Country's leading family-owned hotel group. With eleven superb three and four star hotels throughout Devon and Cornwall, they pride themselves on providing the finest standards of comfort, cuisine and service. They guarantee you'll feel the warmest of welcomes with the best hotel experience the West Country has to offer. Since every Brend Tour Holiday includes breakfast and dinner, wonderful food is a big part of your holiday experience. Every one of their hotels is renowned for serving fine food, crafted by the West Country's top chefs using the freshest of ingredients.
Sit back and relax with Brend Tours
Family run business with over 30 years' experience
NEW Door to Door Home Collection Service with luggage handling
Stay in our award-winning luxury hotels and enjoy our VIP treatment
Exceptional quality and value
Friendly service with a high standard of customer care
Excursions included in the price of the holiday
Luxury coach travel
Experience fine dining in style
Call us on 020 8686 2378 to talk to our UK based Reservation Team