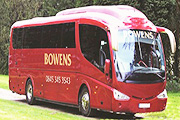 About Bowens Holidays
Bowens holidays (Est. 1928) have expanded along with Evergreen Coaches (Est. 1923) combining their expertise to provide you with exceptionally well organised holidays. All tours are carefully considered with customer reviews in regards to previous holiday experience; as a result, we now provide a great selection of hotels. Our luxury coaches have additional facilities to make the journey to your resort comfortable and enjoyable. Additional to this we have tea, coffee, water and biscuits as complimentary to begin the start of your selected trip. There will be short stops along the route enabling passengers to enjoy some scenery.
Get the best of both Worlds
Bowens Holidays introduced a new unique type of holiday combining two resorts into one. The two in one holidays offers our passengers to further explore the vast differences between these beautiful resorts and hotels. If you're looking to tick holiday destinations off your list then this is the ideal holiday for you. We also offer coach pick up points located around various parts of the West Midlands to making journeys short and convenient. Additional to this there is a choice for a door to door service putting our customers comfort first.
Experience short breaks in style
Bowens have specifically selected hotels which are reasonably priced and have a good reputation in regards to hospitality and quality standards. Situated in locations where they'll always be something to do for everyone. Many of our great holidays come with inclusive excursions (subject to availability) which can be optional. The year 2014 – 2015 is covered by various seasonal celebrations in a variety of UK destinations so book now to avoid disappointment. Our friendly team is more than happy to book your next vacation!