Bakers Dolphin -
Going the extra mile...

About Bakers Dolphin
Bakers Dolphin is one of the largest coach travel and holiday firms in the West of England. The company is very well established, since the story started in 1889 when Charles Theodore Baker, aged 21, borrowed £25 from his older brother and set up business in Weston-super-Mare with a pony and chair for hire. After surviving two world wars, Bakers coaches went from strength to strength, having a 77 vehichle fleet in 1981 after acquiring a major competitor, and merged with Dolphin travel in 1984, buying the Dolphin Travel shops, which boosted the firm to 100 shops selling worldwide holidays. The new group was renamed Bakers Dolphin Travel.
Awards
More recently the Firm has won the following Coach Tourism Awards: - UK Holiday Programme of the Year 2010 - Tourism Director of the Year 2010 - Coach Operator of the Year 2009
Door to Door
Now with 'Door to Door' travel, the widest possible range of holiday destinations and the superb new "Gold Service" vehicles, innovation is still a major part of the business philosophy today. The company is still in the steady hands of the Baker family.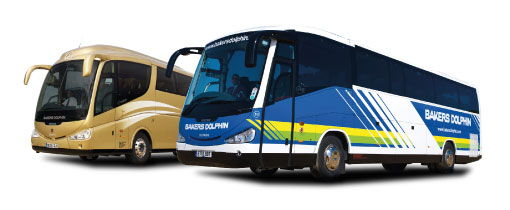 Departure Points
I'm sorry we currently don't have any tours available for this operator.